Stay connected with my latest updates on social media by clicking the icons above!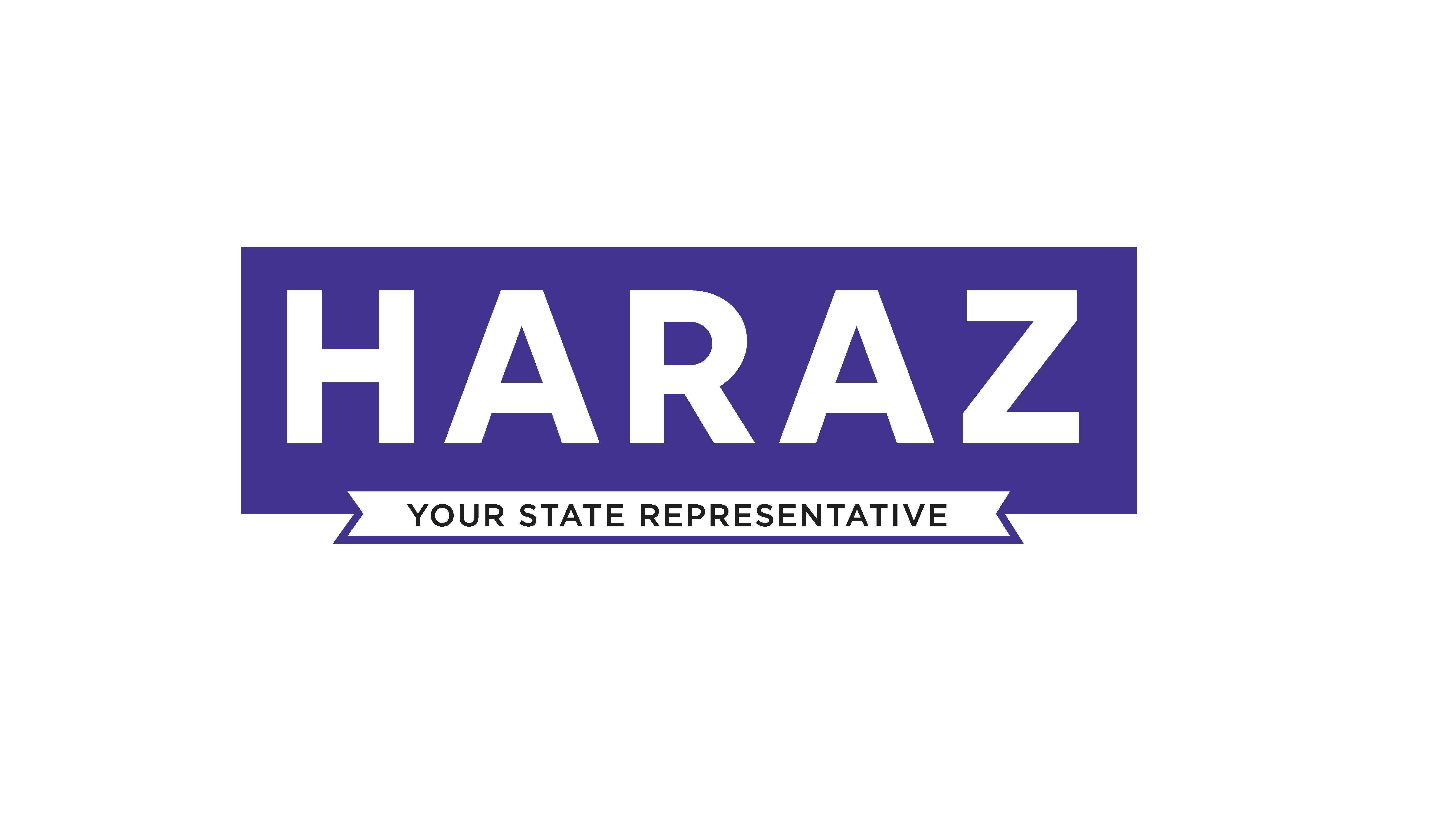 Dear Neighbor,
I hope that you and your families have been enjoying this Ohio summer here in Wood County! As a member of both the House Finance Committee and Finance Subcommittee on Higher Education, I wanted to provide you with information on the latest two-year state budget that we passed and was recently signed into law.
This historic budget is first and foremost comprehensive and balanced. I'm proud of what we accomplished as it includes new school funding formula reform, tax relief for all Ohioans, economic investments, and support for our first responders and veterans. 
The education reform, known as the Fair School Funding Plan was a result of more than three years of work by educators and policymakers - this is a rational, predictable and sustainable approach for our students moving forward.
I'm happy to announce that Ohio families are going to have more money put back into their pockets with a three percent across-the-board personal income tax cut. In total, this tax relief is reducing taxes $2 billion over the next two fiscal years.
The budget also entails significant investments for Ohio jobs, businesses and the economy. These investments include several workforce development and employment opportunity programs to push for robust growth in creating and retaining jobs.
Lastly, I'd like to mention we included several provisions supporting our first responders and veterans. Some initiatives were funding for law enforcement and training and equipment including body cameras, support for veterans organizations, and grants for firefighters. I will continue to be a strong advocate for all our first responders and veterans organizations.
For more updates on legislation and Wood County activity, please review further down in my newsletter. Feel free to always reach out to my office if you have any questions, concerns or ideas. You can email me at Rep03@ohiohouse.gov or give us a call at (614) 466-8104. It remains an honor and privilege to serve.
Sincerely,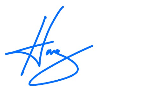 Haraz N. Ghanbari
State Representative, 3rd Ohio House District

Ghanbari's Statement on Bill Signing of 'Collin's Law: Ohio's Anti-Hazing Act'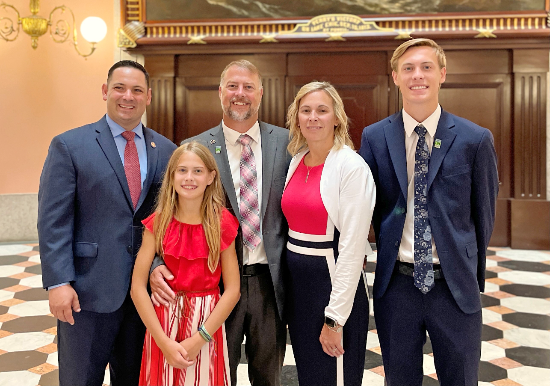 State Rep. Haraz N. Ghanbari (R-Perrysburg) released the following statement after attending Governor Mike DeWine's bill signing for Senate Bill 126, also known as Collin's Law: Ohio's Anti-Hazing Act:
"I'm proud to have worked with my colleagues in the General Assembly as we came together in taking steps at combating hazing at our institutions of higher education. We shall never allow the names of Ohio University student Collin Wiant or Bowling Green State University student Stone Foltz or other victims to ever be silent. These two young men lost their lives as the result of hazing, and while their families continue to grieve they remain committed, as do I, to making sure such tragedies never happen again.
"Simultaneously, I introduced similar legislation to Senate Bill 126, which also touched on the concerns of K-12 bullying happening in our schools. While this was not in the final version signed into law today, I remain adamant and committed to further addressing bullying incidents that occur around our state so that all our children feel like they're in a safe and secure environment when receiving an education.
"I'm thankful to the governor for signing this bill today, and I look forward to our continued dedication to finding solutions on these issues."
Ghanbari Gets Equal Housing Opportunities Provisions included in Budget Package
State Rep. Haraz N. Ghanbari (R-Perrysburg) announces language on an anticipated, bipartisan bill that pushes for equal housing opportunities was included within the recently-approved budget package. Ghanbari led on this initiative, alongside Dontavius Jarrells (D-Columbus), to ensure the provisions were added in the budget plan under House Bill 110.
The language within the budget bill creates equal housing opportunities by creating a process that makes it easier in removing discriminatory covenants from deeds of property transfers. Additionally, it provides immunity from civil liability for attorneys who remove a discriminatory covenant from a deed that they are preparing.
"I'm very pleased to see this outdated practice that hinders individuals of certain races coming to an end," said Ghanbari. "Situations have occurred where discriminatory covenants in deeds on property transfers have been limiting for people based on race and other statuses – this is unacceptable and I'm glad that we got this included within the budget bill."
Ghanbari's 'Lake Township Veterans Memorial Highway' Bill Passes Ohio House
State Rep. Haraz N. Ghanbari (R-Perrysburg) announces Sub. House Bill 291, that includes several road-naming bills, passed within the Ohio House. The legislation includes Ghanbari's House Bill 164 to designate a portion of State Route 795 in Wood County as the "Lake Township Veterans Memorial Highway."
"Lake Township has done a lot over the last few years to honor these veterans and a memorial highway will only add to the community's efforts to consecrate the sacrifice of their neighbors, family members, and friends," said Ghanbari.
Ghanbari has previously noted that the request was brought to him by Lake Township Trustee Ken Gilsdorf, who serves as the Commander of the Veterans of Foreign wars Walbridge Post 9963. 
Ghanbari Champions Restoring Boiler Operators License to Enhance Public Safety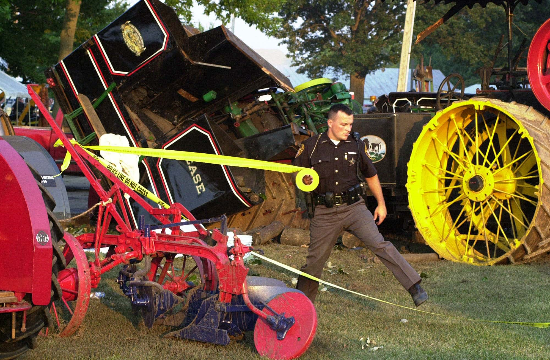 State Rep. Haraz N. Ghanbari (R-Perrysburg) championed restoring the historical boiler operators license and the Historical Boilers Licensing Board that will ensure proper education, training, and implementation of public safety. Ghanbari fought for the new language and it was put into House Bill 110, which is the two-year state budget bill recently signed into law.
"As a news photographer in 2001, I saw first-hand the aftermath of a steam engine explosion at the Medina County fairgrounds that tragically took the lives of five individuals and injured many others," said Ghanbari. "As a result, our state established the Historical Boilers Licensing Board that created a licensing program for historical boiler operators that would help prevent such horrible incidents from occurring. I'm proud to have worked with my colleagues to get these provisions restored to re-establish the Board and the licensing program for the betterment of public safety."
An Associated Press news report from 2001 described the incident that claimed the lives of four men and injured 50 people as a blast that hurled hot oil and shrapnel up to 100 yards on the eve of the opening of the 156th Medina Fair. A fifth person subsequently passed away due to their injuries. The annual event at the time drew around 120,000 people.
Ghanbari's Bill for Local Public Officials and Law Enforcement Jurisdiction Passes Ohio House
State Rep. Haraz N. Ghanbari (R-Perrysburg) and the Ohio House today passed House Bill 206. The legislation gives township trustees the ability to allow township law officers to enforce laws on interstate highways within their jurisdiction. Ghanbari spoke to the bill on the House floor.
"This is about facilitating more cooperation and community organization between our local officials and departments as they work together to protect our fellow citizens on our roadways," said Ghanbari.
For township officers to be able to do this, the following must be required:
The highway is part of the interstate highway system;
The township has a population between 5,000 and 50,000 residents;
Township Trustees grant authority to patrol the applicable interstate;
The highway is located within the township officer's jurisdiction; and
There is a permanent access point on and off the highway located within the jurisdiction and open to the public.

I was excited to catch up with Boy Scouts Troop 344's Jonathan Nassaux before he heads to college and present him with a commendation from the Ohio House of Representatives, Sunday, June 27, 2021 in Perrysburg. From one Eagle Scout to another, best wishes for continued success Jonathan!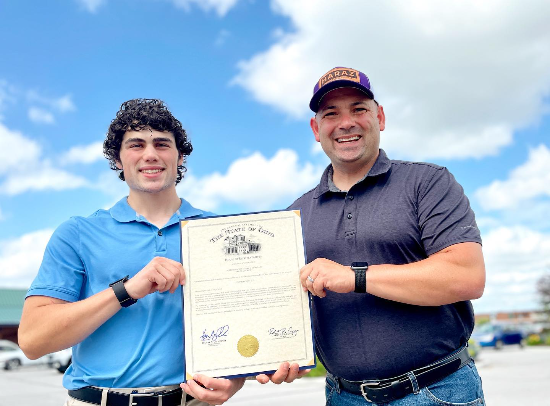 Enjoyed visiting with Gene and Ritz Klotz, and their son Eric, owners of Klotz Floral & Garden Center as I presented them with a commendation from the Ohio House of Representatives, Saturday, June 26, 2021, in Bowling Green, Ohio.
After 103 years of service to our community, the Klotz Family is closing the business today. Their mission was to enrich the lives of the people and community around us with the natural beauty of flowers and the joys of gardening.
Congratulations and thank you for the generational investment in our community.
Congratulations to the Way Public Library (Perrysburg, Oh) for being recognized by the National Society of the Sons of the American Revolution for their Exemplary Patriotism in the display of the Flag of the United States of America, Monday, June 21, 2021, in Perrysburg.

I was honored to join Janel Haas, Director of the Way Public Library, second from left, and Joe Stockner, Adjutant of Perrysburg Post No. 28, American Legion Department of Ohio, Incorporated as Scott Deaner, Secretary of the John Hancock Chapter - Sons of the American Revolution presented the award.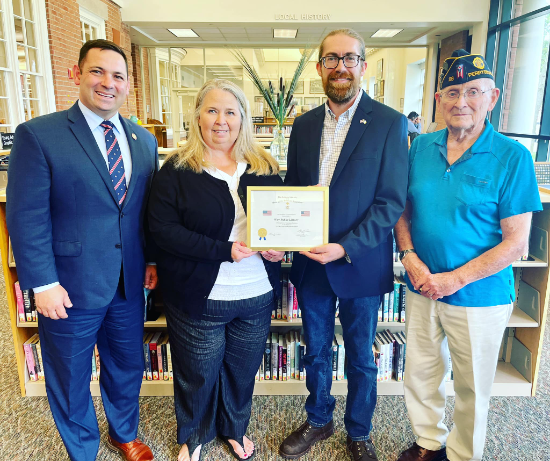 When I think of servant leadership, it's folks like Ohio State Highway Patrol Trooper Lieutenant Robert Ashenfelter, commander of the Bowling Green, Ohio Post No. 87 who come to mind. The lieutenant, who has served our community and state since 1999 as a Trooper, retired today.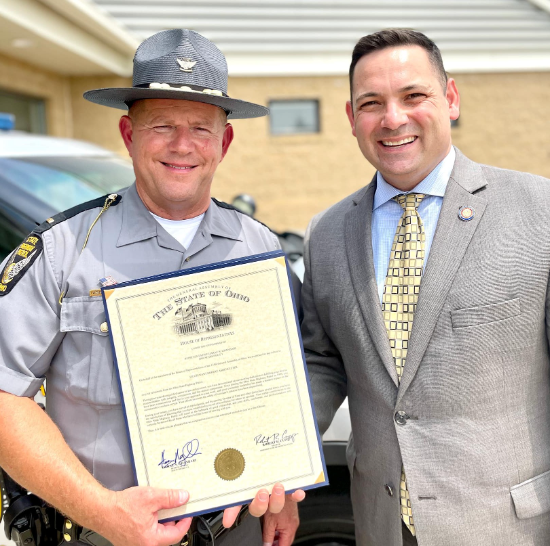 It was a privilege to share remarks during his retirement ceremony and present him with a commendation from the Ohio House of Representatives.
Thank you, Bob. Job well done, my friend.
Incredibly thankful for Wood County Committee on Aging's executive director Denise Niese's leadership and investment in our senior citizens, and her steadfast commitment to the construction of a brand new state-of-the-art senior center.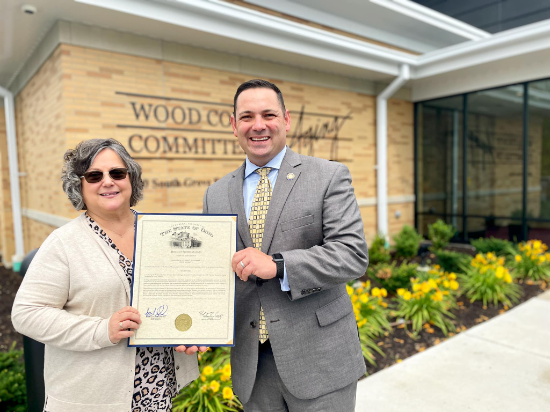 Niese was recently selected as a National Council on Aging 2021 Trailblazers in Aging Award honoree. She received the National Institute of Senior Centers Delegate Council's Founders Award, which recognizes exemplary and long-standing service to the senior center field.
Honored to present her a commendation from the Ohio House of Representatives for her national recognition.
Thank you to Village of Tontogany Mayor Matt Shanahan, and members of Council, for welcoming me to deliver brief remarks of gratitude to local veterans honored with banners that will soon be displayed in the Village during a ceremony, Monday, June 14, 2021, in Tontogany.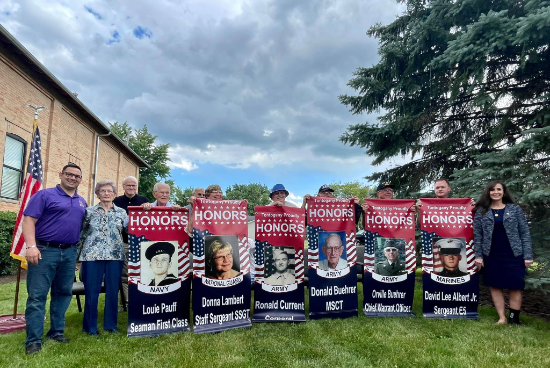 Congratulations and Bravo Zulu to U.S. Coast Guard Commander Megan L. Drewniak on her successful tour as commanding officer of the Marine Safety Unit Toledo. Commander Drewniak assumed command in June 2018.
MSU Toledo is responsible for executing the Coast Guard's Port Safety and Security, Marine Environmental Protection, and Commercial Vessel Safety missions with an assigned area of responsibility stretching from Vermillion, Ohio to Monroe, Michigan along a 214-mile international border.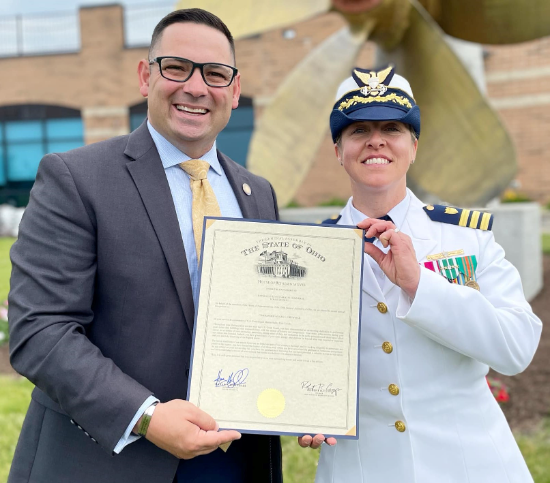 I was honored to attend her change of command ceremony and present her with a Commendation from the Ohio House of Representatives.
Welcome to the community, Lieutenant Commander Patrick J. Brown. LCDR Brown assumed command during the ceremony, Friday, June 4, 2021, at the National Museum of the Great Lakes.
Enjoyed stopping by to visit Perrysburg High School theater director Rob Gentry and some of his students.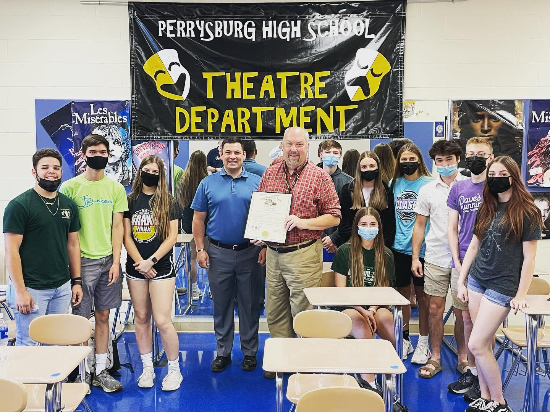 It was an opportunity to recognize Mr. Gentry with a commendation from the Ohio House of Representatives as he transitions from the classroom following 34 years as an educator.
Mr. Gentry, as the Sentinel-Tribune reported, ..."has staged 100 shows, from "You Can't Take It with You" to "Lend Me a Tenor."
Congratulations, and thank you Mr. Gentry for your years of service.
Lots to celebrate this week in the City of Northwood, Ohio!
Honored to attend the groundbreaking of the Northwood Community Recreation Center and The Enclave at the site of the former Woodville Mall, Friday, May 14, 2021. I worked to secure $1,000,000 for the project during the capital budget passed as Senate Bill 310 during the 133 General Assembly.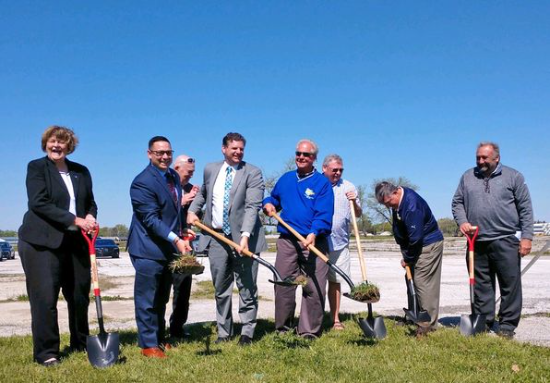 The capital bill is going to be providing Wood County with appropriations for a variety of projects including construction investments in our communities, higher education facilities, and our parks and recreation. I am proud to have worked collaboratively with our community leaders to review, submit and advocate for these projects.

Click the "News Mentions" banner above to read the latest articles involving my time at the Statehouse.
Here are some highlights:
Ohio State Highway Patrol District 1 commander promoted to major - NBC24 Toledo
Ghanbari named to turnpike commission - Toledo Blade
Peloton chooses Wood County to plant roots for new U.S. factory - NBC24 Toledo 
Retiring Perrysburg High School principal honored - Sentinel-Tribune