Click here to view this email in your browser.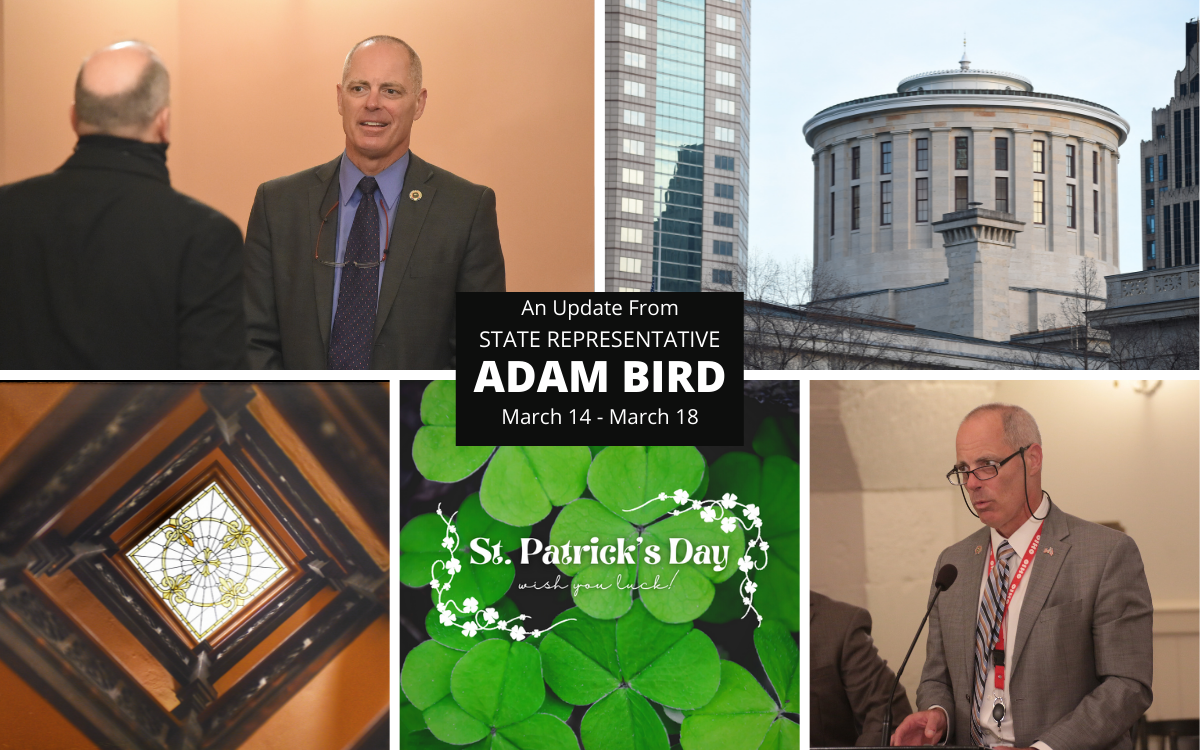 Dear Neighbor,
Some administrative changes took place at the Statehouse while the Legislature prepares for the upcoming State of the State Address. I am honored to have been appointed by the Speaker of the Ohio House to serve on the Federally Subsidized Housing Study Committee and the Ohio Retirement Study Council. I'm looking forward to serving you in these new roles to create the best legislation possible. This week also brought new developments on redistricting, as the Ohio Supreme Court rejected the proposed General Assembly maps for a third time. 
I want to remind everybody to read more about what I'm working on at the Statehouse by visiting my webpage here, or checking out my previous newsletters here. 
Please feel free to reach out to my office at rep66@ohiohouse.gov, or give me a call at (614) 644-6034. 
God Bless,
Adam Bird
State Representative
Ohio's 66th House District
Representative Bird's New Committee Appointments
The Federally Subsidized Housing Study Committee 
State Representative Adam Bird (R-New Richmond) was appointed by Speaker Bob Cupp (R-Lima) to serve on the Federally Subsidized Housing Study Committee, who will make recommendations about the valuation of subsidized rental property. To date, the Committee has had three hearings and heard from a variety of expert agencies, including the Ohio Housing Finance Agency, Ohio Capital Corporation for Housing, the Coalition on Homelessness and Housing in Ohio and others.  
The Ohio Retirement Study Council 
After the departure of Rick Carfagna from the State Legislature, Speaker Cupp considered Bird the best fit to fill the vacancy left on the Ohio Retirement Study Council. The Council is responsible for advising the State Legislature on all matters relating to the benefits, funding, investment and administration of the five statewide retirement systems in Ohio: 
Public Employees Retirement System

State Teachers Retirement System 

School Employees Retirement System 

Police and Fire Pension Fund 

State Highway Patrol Retirement System 
An Update On The Ohio Redistricting Commission
The Ohio Supreme Court issued their decision Wednesday evening to rule on the latest maps proposed by the Ohio Redistricting Commission, which created 54-45 and 18-15 rations in the House and Senate in favor of the GOP. For a third time, the maps were rejected by the Court on a 4-3 vote. 
"I disagree with the court's decision to overturn the legislative maps. The members of the Redistricting Commission have gone about the business of map creation with professionalism and fidelity. The maps that they have produced are constitutional and should not have been overturned," said Bird. 
Along with the decision, the Court ordered the Ohio Redistricting Commission to reconvene and draft new General Assembly maps by March 28. 
State Representative Adam Bird
77 S. High St., 11th Floor
Columbus, OH 43215
(614) 644-6034 | rep66@ohiohouse.gov
Click here to unsubscribe or to change your Subscription Preferences.