Click here to view this email in your browser.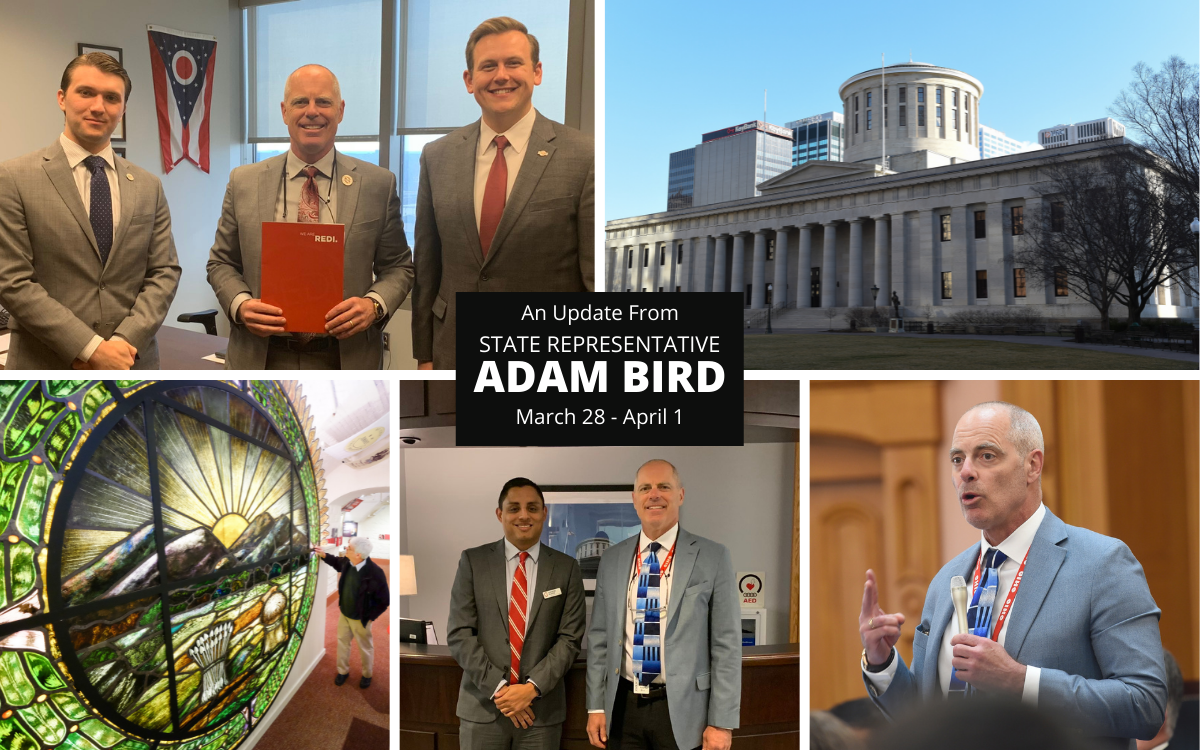 Dear Neighbor,
Spring is in full swing with the arrival of April, and so is the Statehouse. I held various meetings this week with organizations such as REDI Cincinnati, JobsOhio and the Clermont County Chamber to discuss the further growth and development of the 66th House District. I'm excited by all the ideas and possibilities being presented, I'll be working vigorously to see them come to fruition. In regard to legislation, I'm proud to announce that the Ohio House favorably voted on my House Bill 583. I encourage you to keep track of its progress as it now heads to the Ohio Senate. In addition, you should also be on the lookout to see House Bill 476, my legislation to create a Parkinson's disease registry in Ohio, on the Ohio House floor. The bill was reported out of the House Health Committee and I'm hopeful the whole House floor will be able to consider it in the near future. While legislation keeps the Statehouse busy, another critical project has begun: The Capital Budget. My office will be submitting requests for various projects to benefit Brown and Clermont County. 
I want to remind everybody to read more about what I'm working on at the Statehouse by visiting my webpage here, or checking out my previous newsletters here. 
Please feel free to reach out to my office at rep66@ohiohouse.gov, or give me a call at (614) 644-6034. 
God Bless,
Adam Bird
State Representative
Ohio's 66th House District
This Week with Representative Bird
State Representative Adam Bird (R-New Richmond) began the week's business at the Statehouse meeting with REDI Cincinnati and JobsOhio. 
"Great meeting this morning with
@GrowCincyUSA and @JobsOhio.
We are coordinating with
@ClermontChamber to make Clermont and Brown Counties the best place in Ohio to locate a business! Looking to grow the workforce development
from our region's schools." 
Clermont County Chamber visited  Columbus to continue discussions on how best to maintain the development of Clermont and Brown Counties. 
"Great meeting today with Andrew McAfee from the @ClermontChamber
about their Legislative Priorities. We need business friendly tax policy, workforce development programs, and investment in infrastructure in order to keep growing Clermont and Brown Counties".
Bird's Legislation Moves on to the Ohio Senate
House Bill 583 was favorably passed by the Ohio House with an 80-10 vote. The measure to rectify Ohio's substitute teacher shortage now heads to the Ohio Senate for further consideration. 
"I'm very pleased to have received the House's support on this legislation. Ohio's students are one of my top priorities and I'll continue to fight to ensure Ohio administers a top tier learning experience," said Bird.
Ohio House Health Committee Reports Out House Bill 476
House Bill 476, legislation to create a Parkinson's Disease Registry, was favorably reported by the House Health Committee. To combat the chronic neurological disease, Bird and his joint sponsor aim to establish the registry to collection and disseminate Ohio-specific data related to Parkinson's and Parkinsonisms.
Cases of the disease would be reported to the Registry by certain healthcare professionals, a Parkinson's Disease Registry Advisory Committee would be created to assist the Ohio Department of Health to develop and implement the program and "Parkinson's Disease Awareness Month" would be moved to April rather than September. 
Bird became aware of the need for such legislation after concerning statistics from a 2019 study by the Michael J. Fox Foundation for Parkinson's Research. The study found 37,000 Ohioans are living with the disease. Further, Parkinson's is the fastest growing neurological disease in the world, expected to double by 2040. 
Capital Budget Discussions Begin
The time has come to submit Capital Budget requests! Bird's office is working diligently to bring as many dollars possible back to Brown and Clermont County. A total of 17 projects have been submitted on behalf of the 66th House District; requests include improvements to the Liberty Landing waterfront in New Richmond, funding for a new horse arena at the Brown County Fairgrounds, and additional portions of retaining wall along the Ohio River in Moscow to combat erosion and stabilize the riverfront.
"I'm hopeful that a number of projects can be secured with the upcoming Capital Budget," said Bird. "I'm going to be persistent in bringing these dollars back to the 66th House District so we can continue creating opportunities and a strong community for the people of Brown and Clermont County." 
State Representative Adam Bird
77 S. High St., 11th Floor
Columbus, OH 43215
(614) 644-6034 | rep66@ohiohouse.gov
Click here to unsubscribe or to change your Subscription Preferences.