Click here to view this email in your browser.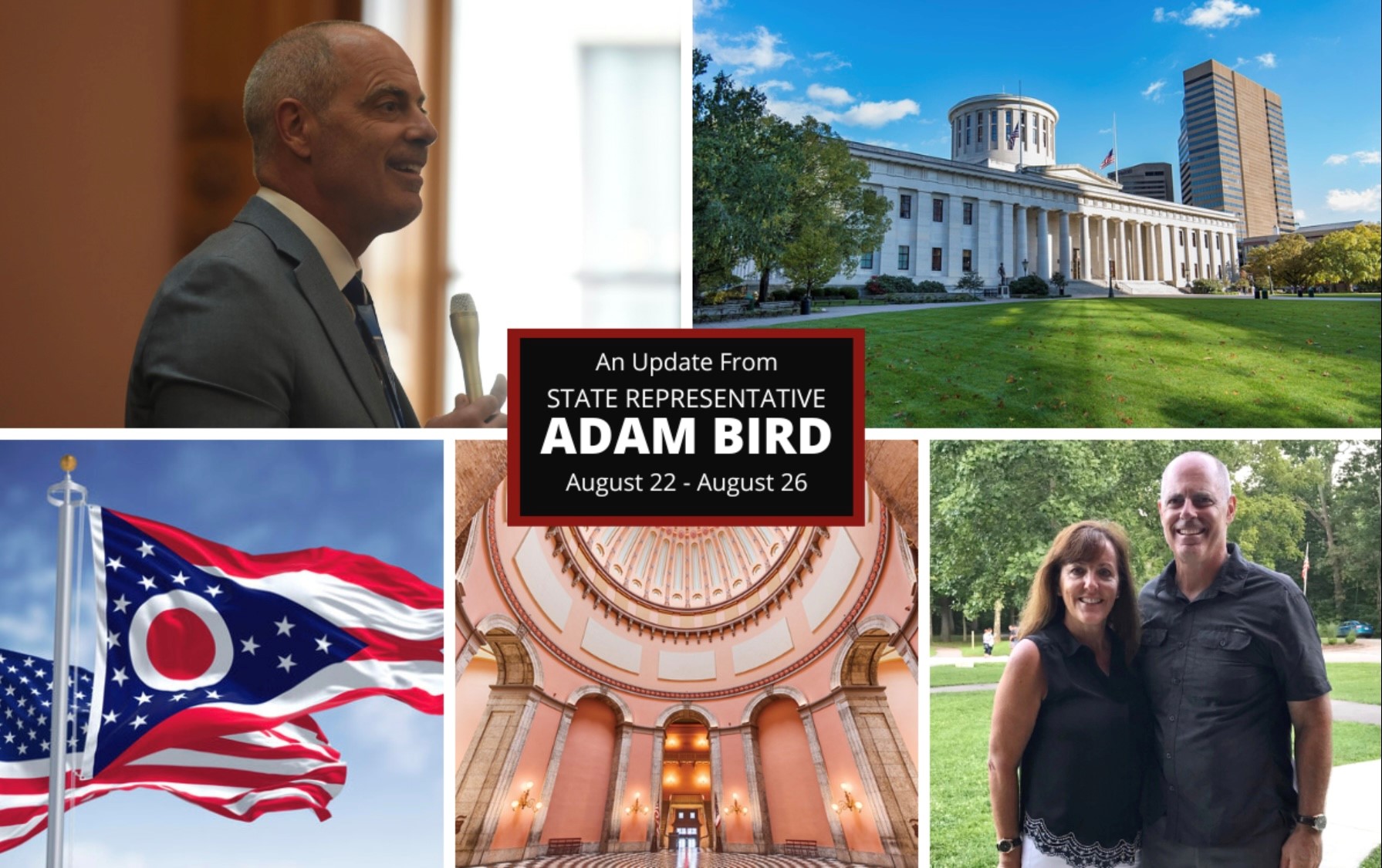 Dear Neighbor,
I got the opportunity to spend another beautiful week in Clermont and Brown Counties. I am thankful that this summer has blessed me with the chance to spend so much time with the people of district 66. The Clermont Chamber of Commerce hosted a wonderful summer tailgate this week, and I had a great meeting with Lieutenants Howard and Jordan, Commanders of the Ohio State Highway Patrol Batavia and Georgetown posts, respectively. We had an incredible turnout at our ice cream social on Monday! Thank you to all those who joined us for great conversation and delicious treats at Sycamore Park in the Village of Batavia. 
I want to remind everybody to read more about what I'm working on at the Statehouse by visiting my webpage here, or checking out my previous newsletters here. 
Please feel free to reach out to my office at rep66@ohiohouse.gov, or give me a call at (614) 644-6034. 
God Bless,
Adam Bird
State Representative
Ohio's 66th House District
Primary Sponsored Legislation - State Representative Adam Bird (R-New Richmond) introduced legislation to honor Deputy Bill Brewer, a 20-year veteran of the Clermont County Sheriff's Office who gave his life in the line of duty. Deputy Brewer was a member of the Clermont County Special Response team, a loving husband, father and friend to many, and an honorable detective, deputy, and member of his community. Representative Bird introduced House Bill 250 to designante a portion of State Route 32 in Clermont County as the "Deputy Bill Brewer Memorial Highway." The designated area, to be marked by the director of transportion, is the eastbound and westbound lanes of State Route 32, between the eastern and western border of Batavia township in Clermont County.
Representative Bird is proud to honor Deputy Brewer with this legislation. In an effort to pass this legislation in a timely manner, the contents of House Bill 250 were added to House Bill 291, a joint effort by state legislators to enact multiple designations of memorial highways and memorial bridges throughout the State of Ohio. House Bill 291 was signed into law by Governor Mike DeWine on April 21, 2022 and has been effective since July 21, 2022. Representative Bird is working with the Clermont County Sheriff's Office to schedule an unveiling of the Deputy Bill Brewer Memorial Highway sign in the near future. 
Co-sponsored Legislation - Aided through the House Chamber by Bird and his co-sponsorship was House Bill 497, eliminating retention under the Third Grade Reading Guarantee. As a former superintendent, principal, assistant principal and teacher, Bird understood the importance of this piece of legislation. Introduced by his colleague, State Representative Gayle Manning (R- North Ridgeville), this bipartisan measure is making significant progress as members of the house advocate for Ohio's schools and students. House Bill 497 would eliminate the retention requirement for third graders solely based on their English language arts, or ELA, assessment scores, and allow the parent input regarding the decision to retain their child in their current grade. Bird and his colleagues support the notion that literacy is complicated and not all students progress at the same rate and they believe in supporting teachers as they provide students with interventions to continue building their literacy. 
House Bill 497 was favorably passed in the House and introduced in the Senate on June 8, 2022. 
This Week with State Representative Bird
State Representative Adam Bird
77 S. High St., 11th Floor
Columbus, OH 43215
(614) 644-6034 | rep66@ohiohouse.gov
Click here to unsubscribe or to change your Subscription Preferences.