Click here to view this email in your browser.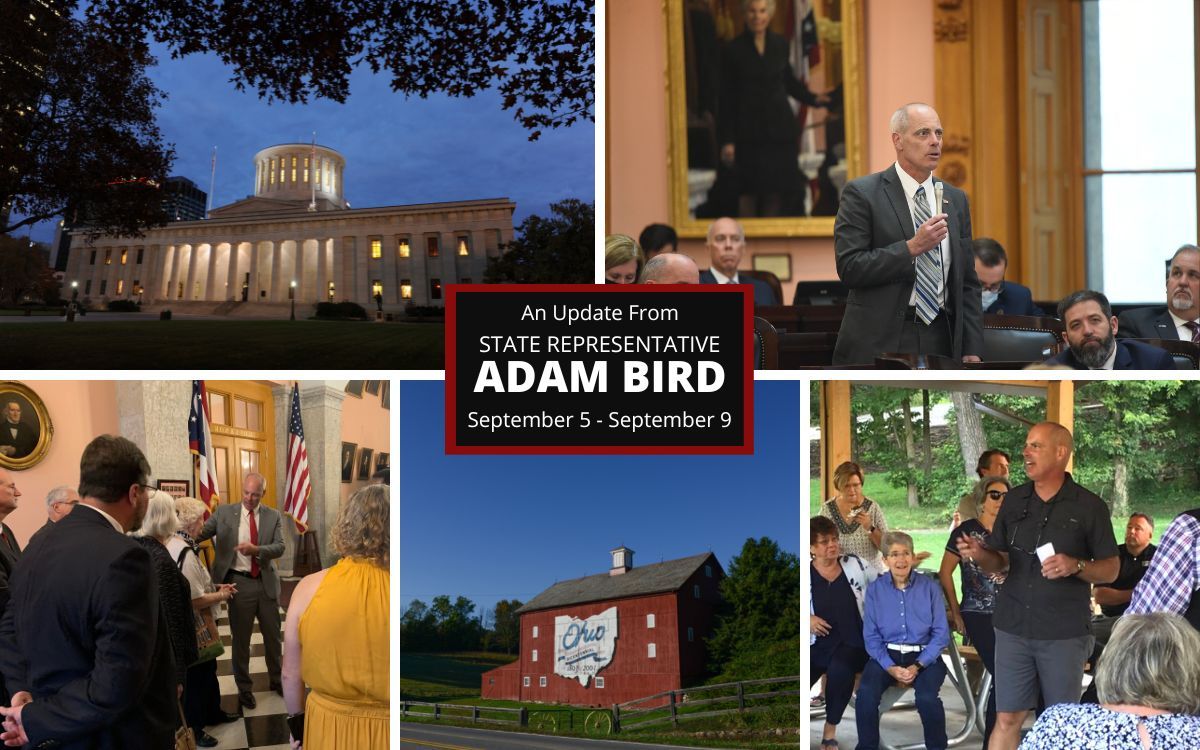 Dear Neighbor,
It's an honor to serve as your State Representative for the 66th State House District. Summer is officially coming to an end, as Labor Day was Monday. However, things are moving forward full steam ahead. So, I want to highlight some meetings and legislation my colleagues and I have been working on over the last several months.
I want to remind everybody to read more about what I'm working on at the Statehouse by visiting my webpage here, or checking out my previous newsletters here. 
Please feel free to reach out to my office at rep66@ohiohouse.gov, or give me a call at (614) 644-6034. 
God Bless,
Adam Bird
State Representative
Ohio's 66th House District
Labor Day
This week, America celebrated the contributions and achievements of its workforce with Labor Day. Bird recognizes and appreciates the hard work and dedication of Ohioans, especially those in Brown and Clermont Counties, and he hopes everyone had a fun, safe holiday to spend with family and friends to close out Summer. 
Ohio Police and Fire Pension Fund
This week, Bird met with members of the Ohio Police and Fire Pension Fund to touch base on their priorities and gather input on various bills at the Statehouse. He thoroughly enjoyed the opportunity to hear from their members and gather their thoughts on issues relevant and important to them in Ohio. Bird always welcomes and appreciates speaking with organizations across Ohio, as he aims to make the best decisions for all Ohioans.
Legislative Review
Primary Sponsored Legislation - State Representative Adam Bird (R- New Richmond) is a firm believer in the integrity of the Courts system. As such, in 2021, he and State Representative Gary Click (R-Vickery) sponsored House Resolution 57, which called for the cessation of partisan attempts to threaten the independence of the United States Supreme Court.
H.R. 57 came about after President Biden issued an executive order establishing the Presidential Commission on the Supreme Court of the United States, causing a rift in the separation of powers on the federal level. The resolution further requested that President Biden dissolve the Commission, and endorsed that the number of justices serving on the United States Supreme Court remain at nine. 
H.R. 57 was adopted by the House last Summer with a vote of 60-34. It was then sent to members of the United States House of Representatives, members of the United States Senate, and the President of the United States. 
Co-sponsored Legislation -  In an effort to help combat the border crisis, State Representative Adam Bird co-sponsored House Concurrent Resolution 22. The resolution, sponsored by Representative Tom Young and Representative Phil Plummer urges the United States government to secure the southern border between the US and Mexico.
The resolution describes various threats the United States faces without securing the border, such as drug, weapons, and human trafficking, the further spread of COVID-19, and conflict between the US and Mexico. The resolution seeks to put an end to these threats and bring peace to the border.  
This legislation was adopted by the House late last year with a vote of 59-26 and has been reported by the Senate Veterans and Public Safety Committee for a vote on the Senate floor.  
State Representative Adam Bird
77 S. High St., 11th Floor
Columbus, OH 43215
(614) 644-6034 | rep66@ohiohouse.gov
Click here to unsubscribe or to change your Subscription Preferences.