Click here to view this email in your browser.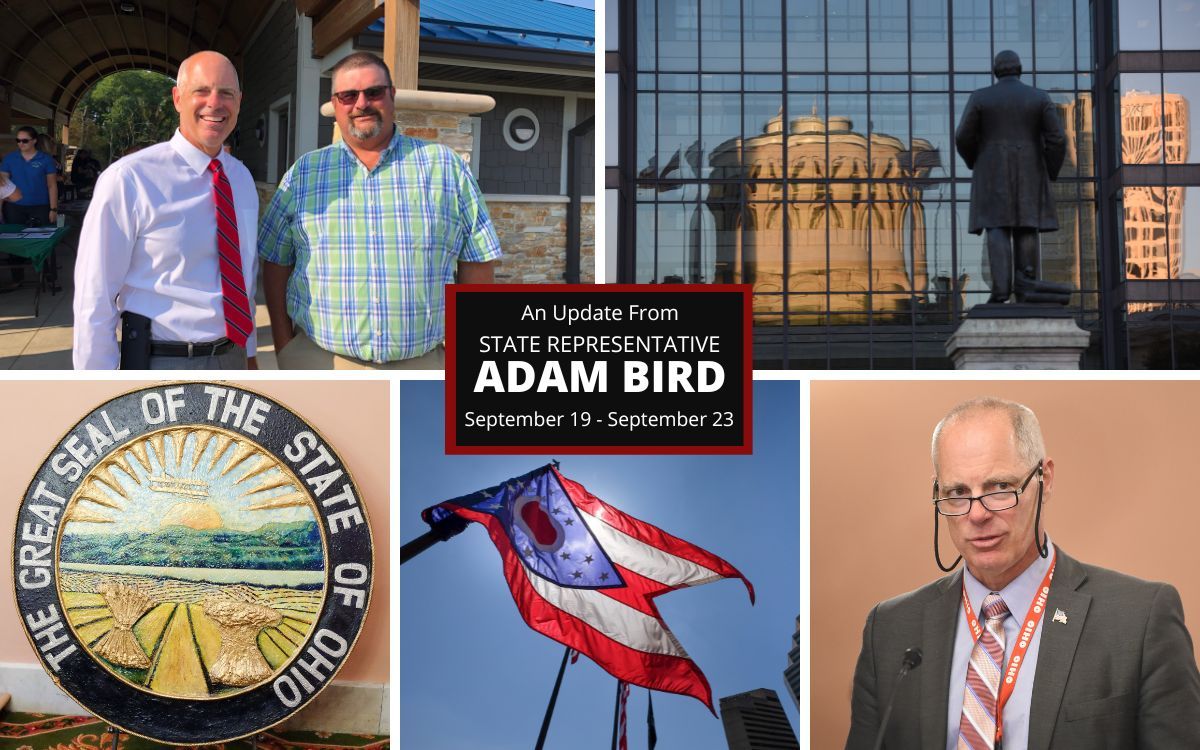 Dear Neighbor,
It's an honor to serve as your State Representative for the 66th State House District. It is officially Fall, which means we are full steam ahead with events both in Columbus and the district. I appreciate the opportunity to meet so many of my constituents and hear their thoughts.
I want to remind everybody to read more about what I'm working on at the Statehouse by visiting my webpage here, or checking out my previous newsletters here. 
Please feel free to reach out to my office at rep66@ohiohouse.gov, or give me a call at (614) 644-6034. 
God Bless,
Adam Bird
State Representative
Ohio's 66th House District
Primary Sponsored Legislation - Unfortunately, Ohio has faced and is facing a drug crisis. Understanding the importance of this, Representative Adam Bird (R - New Richmond) has introduced House Bill 356 with Representative Mike Loychik (R-Bazetta).
This bill would launch a new program for those arrested for drug-related crimes to receive treatment over three years rather than a conviction. Current law is not sustainable - too many addicts are not seeing long-term solutions to their problems, creating a never-ending cycle.
H.B. 356 also raises the minimum penalty for anyone who distributes opioids to reflect a sentence similar to armed robbery. The distribution of opioids in Ohio is leading to drug overdoses. As such, Bird hopes this legislation will have an impact on those who are pushing opioids.
H.B. 356 was introduced last year and is awaiting its fourth hearing in the House Criminal Justice Committee. 
Co-sponsored Legislation -  Throughout his tenure in the Ohio House of Representatives, Representative Adam Bird has always voiced his support for law enforcement. Most recently, he co-sponsored House Bill 712, which would prohibit condominium and neighborhood associations, landlords, and manufactured home communities from restricting the display of the thin blue line flag.
The thin blue line flag serves the purpose of thanking law enforcement officers who often go thankless. It is a small symbol of recognition for the dedication and sacrifices our peace officers give to all Ohioans. Our people have the right to recognize these men and women, and Bird wants to recognize that.
This legislation was introduced last month and will be referred to a committee soon.
This Week with State Representative Bird
Monday
REDI Cincinnati Meeting - Representative Bird attended a meeting with REDI Cincinnati, a JobsOhio partner that assists businesses to connect with the partners and resources necessary for them to thrive. Bird enjoyed the opportunity to hear about the opportunities coming to Mt. Orab.
Tuesday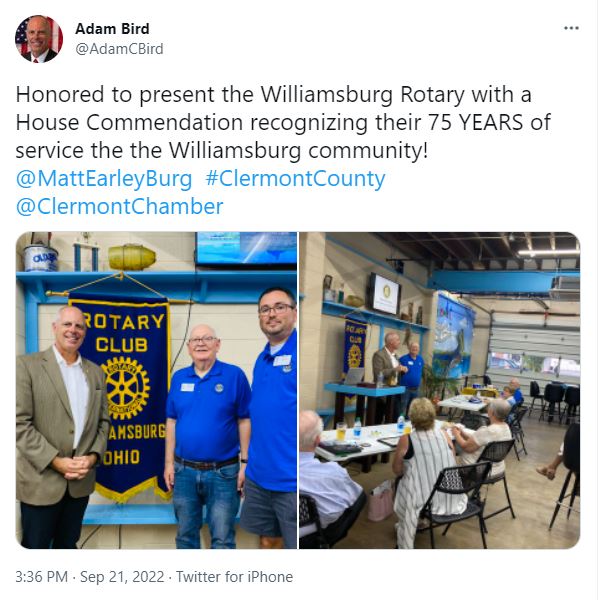 Wednesday
Columbus - On Wednesday, Representative Bird made the trip up to Columbus. While there, he met with several individuals to discuss current and future pieces of legislation. Bird appreciates any opportunity to hear others' thoughts on bills circulating through the General Assembly.
Also in Columbus, Bird met with the State Auditor's office to discuss College Credit Plus (CCP) and its benefit to Ohio's school district.
Clermont County Central Committee Meeting - Wednesday evening, Representative Bird attended a meeting of the Clermont County Central Committee. Here, he had the opportunity to speak with local leaders and gather insight pertinent to the success of the community.
Thursday
UC Clermont 50th Anniversary - To honor UC Clermont's 50th Anniversary, Representative Bird attended a celebration with faculty and staff. Bird was honored to attend this event and hear about their successes over the years.
Brown County Central Committee Meeting - In addition to the Clermont County Central Committee meeting on Wednesday, Bird attended a meeting of the Brown County Central Committee. Once again, he enjoyed getting to speak with community leaders and learn how he can assist the people of Brown County.
West Clermont School District Town Hall - As a former superintendent, Representative Bird is very passionate about providing Ohio's youth with the best education possible. He was honored to attend this town hall and have discussions with parents and educators about how they can all best serve their students.
State Representative Adam Bird
77 S. High St., 11th Floor
Columbus, OH 43215
(614) 644-6034 | rep66@ohiohouse.gov
Click here to unsubscribe or to change your Subscription Preferences.